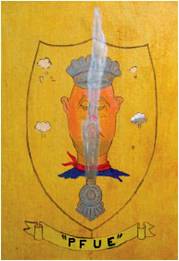 This from Chuck Balmer
Since Coles Power Models went out of business, I have had a hard time finding a good source for small copper rivets at a reasonable price. McMaster-Carr has alot of rivets but they don't carry the small copper ones. I found a company out in California called Hanson Rivets that has all types of copper, aluminum, and steel rivets with a variety of head types. You can order the rivets by the pound or fraction there of. The prices are quite reasonable and they will accept VISA phone orders. For anyone interested, they can go online at Hansonrivet.com. Their phone number is 1-800-777-4838.
Next public run is January 1, 2019. Last year, we ran in the snow! There wasn't a big crowd, but we did run.
The lower loop is back in service. The walkway has not been replaced, yet.