VISITORS PAGE
Welcome to Cinder Sniffers, Inc.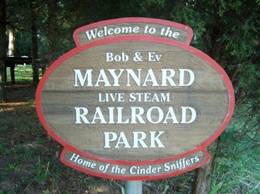 ---
Visitors are welcome during "Public Invited" Open Run days. Check our Schedule often as dates change. The club does not charge for rides. We exist on dues and donations from guests.
All guests are requested to sign our Guest Release Form upon entry to the park.
Parking is limited. If you are bringing a group of 6 or more (ie more than one car) please notify us at corrsec at sign cindersniffers.org
Notice to visitors with trailers, We have a bridge with an 8' clearance. If your hauler is over 8', you will not be able to access our unloader